Donate Your Used Books, CDs, Audiobooks and DVDs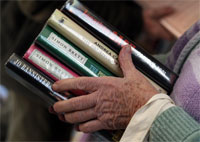 Open a book and you can meet interesting characters, travel to foreign shores, and learn about everything under the sun. So many of us, however, have books piling up in corners, lining up along the floor, stacked in piles on desks, overflowing from our bookshelves.
Give your personal book collection a facelift by donating your gently used unwanted books, DVDs and audiobooks  to the Town of Cornwall Library book sale!  Then, browse at the sale in May to pick up bargain books of interest from among those others have donated.
Best of all, proceeds from the sale go directly to stock the Library shelves with new releases purchased from the Vermont Book Shop in downtown Middlebury.
Let's see:
"recycle" books you'll never read again,
pick up others you've always wanted to read — at bargain prices
help the Town Library keep a great collection of new titles, and
support a local independent bookseller!
That's a win-win-win-win!
Drop off your unwanted (but reasonably recent) books, DVDs and audiobooks (please no LP's, cassette tapes, textbooks, magazines, or encyclopedias) of all subject matters at Cornwall Town Hall any time during regular hours (Tues-Fri, 9-5) before the sale.  The earlier, the better… to give us ample time to sort them before the sale.
Please make sure your donated books are in good, resale condition — meaning no water stains, mold or mildew smells, or bug-infestations. If you have some of the latter, tear off the covers and drop them off at the Addison County Recycling Center in Middlebury.
Lastly, if you haven't stopped in the Library lately, drop by and check out our always changing selection!  It's free to Cornwall residents.