What is the future of education in Cornwall and in the Addison Central Supervisory Union (ASCU)?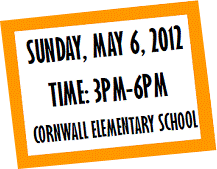 You may remember a presentation at the 2011 Town Meeting about studying the creation of a Regional Education District (RED). Cornwall, as well as the six other ACSU towns will each be holding several community forums to brainstorm the concept and discuss the possibilities. These forums are designed to help the community identify immediate and long-term education issues, talk about common values and concerns, articulate a vision for the future, and prepare the community for the decisions we will face in the coming years.
The kickoff and first study group session will be held on Sunday, May 6 from 3-6PM at the Cornwall Elementary School. Refreshments and childcare will be provided.
This is your opportunity to be heard. We need the participation of all stakeholders in this process. It is an important opportunity to bring the whole community — not just those with children in the school — together around an issue that will, in one way or another, affect us all. We hope to see you there.
Sarah Kemp (462-3671)
Sue Johnson (462-2775 or 462-2324)