The VT Health Department and Agency of Agriculture have identified areas in the Whiting and Cornwall swamp to be treated by aerial pesticides. The aerial application could be conducted as early as Wednesday, September 5.
Two cases of Eastern Equine Encephalitis (EEE) have been confirmed in humans in Rutland and Addison counties. The Departments have identified the pesticide applications as a means of reducing mosquito populations that carry EEE and West Nile Viruses.
VT Health Commissioner Harry Chen, MD, determined that the pesticide application is warranted to mitigate the significant public health risk posed by the infected mosquitoes in these areas.
There will be a public information meeting, Tuesday night, 9/4/12, at 7pm at the Brandon Town Hall for people to hear an overview of the planned spraying and to ask questions.
The Health Dep't website about these viruses (not updated with the recent cases) can be found here.
The detailed State Arbovirus Surveillance and Response Plan is posted here.
EEE/Mosquito Spraying Update – Sept 5: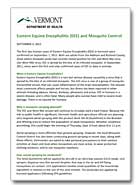 Attached to this post in pdf form is information Dave Anderson, our Health Officer, picked up at a meeting in Brandon last night in regard to the threat of West Nile Virus and EEE.
Some important excerpts:
Actions you should take:
Stay inside or avoid the area when spraying takes place and for about 30 minutes after spraying. That time period will greatly reduce the likelihood of your  breathing pesticide in air.
Close windows and doors and turn off window air-conditioning units or close their vents to circulate indoor air before spraying begins. Windows and air-conditioner vents can be reopened about 30 minutes after spraying.
If you come in direct contact with Anvil spray, protect your eyes. If you get Anvil spray in your eyes, immediately rinse with Water. Wash exposed skin. Wash clothes that come in direct contact with spray separately from other laundry.
Consult your health care provider if you think you are experiencing health effects from spraying.
Actions you may want to take:
If spraying just occurred, minimize your contact with surfaces and Wash skin that has come in Contact with these surfaces.
Pick home-grown fruits and vegetables you expect to eat soon before spraying takes place. Rinse homegrown fruits and vegetables (in fact, all produce)  thoroughly with water before cooking or eating.
Cover outdoor tables and play equipment before spraying or wash them off with detergent and water after they have been sprayed.
Bring laundry and small toys inside before spraying begins. (Wash with detergent and water if exposed to Anvil during spraying.)
Bring pet food and water dishes inside, and cover fishponds to avoid direct exposure.