From the Vermont Department of Health:
In Vermont, mosquitoes are mostly a nuisance, but a few of them can carry diseases caused by arboviruses that affect people and some animals.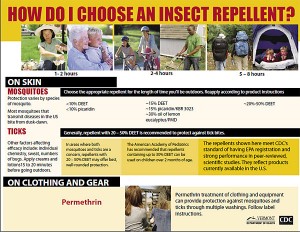 Two diseases of concern in Vermont are West Nile virus (WNV) and Eastern equine encephalitis(EEE). These viruses can be circulating anywhere in the state. Take precautions to avoid mosquito bites.
West Nile virus (WNV) is a mosquito-borne virus that can cause illness ranging from a mild fever to more serious disease. WNV was first identified in the United States in 1999 and detected in Vermont in 2000. In 2011, two Vermonters were diagnosed with WNV infection. Horses are also commonly affected by this disease.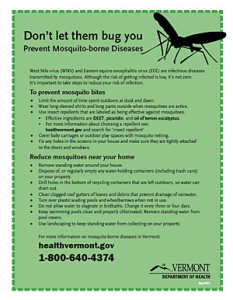 Eastern Equine Encephalitis
Eastern equine encephalitis (EEE) is a rare but serious disease, also caused by a virus. As of the beginning of September 2012, two human cases of EEE in Vermont have been confirmed. The disease most commonly affects people and horses, but illness has been reported in other animals including alpacas, llamas, donkeys, pheasants and emus.
Information Resources and Materials
Fact sheets, brochures, booklets, posters and education materials are available.
General information
For health care professionals
For schools and youth related
For town officials
For veterinarians and animal owners