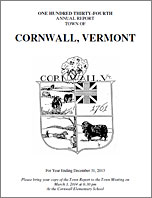 Town Reports are back from the printer and ready to be picked up at the Town Hall.  I will also be putting some reports at the Town Garage and up at the School.  Or, you can download a pdf copy here.
I will be mailing to those that requested last year.  If you wish to have a report mailed give me a call and I will take care of that.
Absentee ballots are also available.  They will be available the rest of today (Friday 2/21), Tuesday, Wednesday, Thursday and Friday (2/25 – 2/28) next week and also on Monday, March 3 from Noon – 5PM.  If you would like to request a ballot be mailed to you, please let me know and I will send it along.  You can only pick up your own ballot, so you can not pick up one for a family member.
The floor Town Meeting will be Monday night March 3, 2014 at 6:30 PM at the Cornwall School. The School meeting will follow.
The ballot Town Meeting will be all day Tuesday, from 7AM – 7PM at the Cornwall Town Hall.
Call or email with any questions.  462-2775 or cornwallvt@shoreham.net
Thanks, Sue