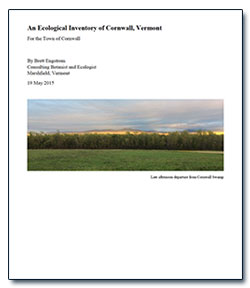 The final report of our two-year Natural Resources Inventory is now available.
Initiated by the Cornwall Conservation Commission, the objective of the inventory was to find and describe areas of highest ecological value in Cornwall. It was completed by Brett Engstrom, Botanist and Ecologist, and took place from 2013 to 2015. His primary focus was to identify natural communities of state and local significance, species of greatest conservation need, large and more intact forest blocks, riparian areas of special importance for watershed health, and potential connectivity habitat.
An overview of the process and links to the report, map and other documents are available here.