A multimedia presentation by Jim Andrews, Wildlife Biologist
Wednesday, February 27, 2019 — 7:00-8:30 pm
Bingham Memorial School — 112 School Road (Rte 30)
From Blue-spotted Salamanders to Northern Leopard Frogs, the Cornwall area contains a diversity of interesting amphibians. Join Vermont herpetologist Jim Andrews as he shares his extensive knowledge and amazing photos of these special animals.
Amphibians live on land, travelling to water only to breed. Jim will identify some specific locations where unusual species may be found. His goal is to challenge us to find and report new species and critical habitat areas.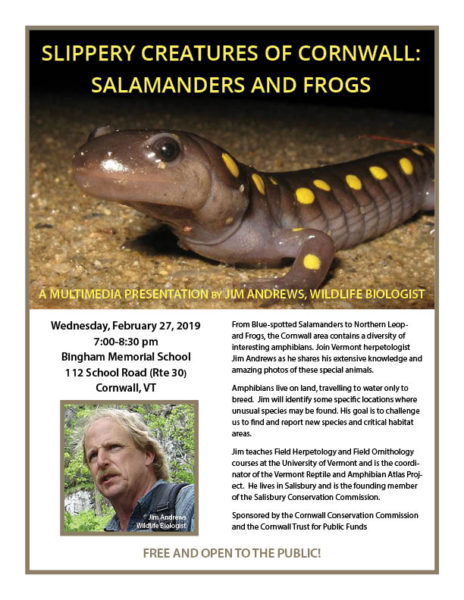 Jim teaches Field Herpetology and Field Ornithology courses at the University of Vermont and is the coordinator of the Vermont Reptile and Amphibian Atlas Project. He lives in Salisbury and is the founding member of the Salisbury Conservation Commission.
Sponsored by the Cornwall Conservation Commission and the Cornwall Trust for Public Funds. Free and open to the public.