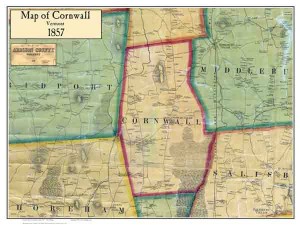 The Cornwall Historical Society is a volunteer group interested in documenting the unique history of our town. Previous community members documented the early history of Cornwall in detail. It is the historical society's intent to continue this tradition.
The society has a growing collection of artifacts and archives in its office in the Cornwall town hall. Historical property records and genealogical information are available at the town clerk's office.
The Cornwall Historical Society welcomes all interested community members.
For further information, contact Sue Johnson, Town Clerk at 462-2775 or cornwallvt@shoreham.net