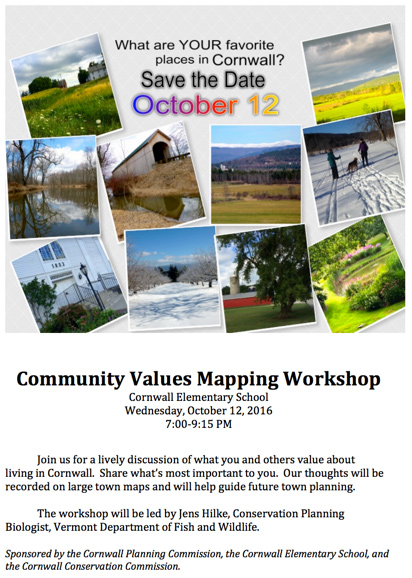 Cornwall residents (and schoolchildren) will have an opportunity in October to participate in a project to map the future of Cornwall through community engagement.
The purpose of the Community Values Mapping (CVM) project is to offer Cornwall residents an opportunity to engage in a discussion of a wide variety of issues affecting our town. Its goal is to help clarify the positive aspects of the town and assess community support for ongoing projects. The information gathered from participants will be of help in guiding future town planning.
The project starts with a mapping exercise that asks participants to share what they value about living in Cornwall. The first will be with the K-6th grade students and take place during the school day on October 6, 2016. Residents will have an opportunity to do their own mapping on October 12th (7-9:15 pm.) Jens Hilke, Vermont Department of Fish and Wildlife, will facilitate both events.
For the town meeting, following an introduction to the evening's activities, the attendees would be randomly divided into small groups, each with a facilitator who would encourage participants to share the values that are most important to them. "What do you care about in our town? What are the community values/activities that are most important to you?" When appropriate, they will be asked to draw circles on the group's large map, number each, and add corresponding text. To conclude the Forum, a summary of the information from each of the smaller groups will be presented to the whole group.
The information gathered at these Forums will subsequently be compiled into a summary map by Jens and shared with the town. In suggesting this project, the Conservation Commission was initially focused on inspiring the conservation of natural resources. However the Forum's primary goal is much wider and will address the full range of important community concerns through attendees' participation in discussions of topics such as scenic views, recreation, farming, development, conservation, etc.
The Community Values Mapping Forum provides an opportunity for people come together to celebrate what is special about Cornwall, and at the same time, contemplate the ways they would like the town to grow and change. It is also a way to generate interest in and support for new activities and allow community organizations to focus their work towards the most favorable elements of their community enhancement goals. For the Forum to be most useful, wide participation by all parts of our community is key. The Cornwall Conservation Commission, the Planning Commission, and the School will oversee its planning and implementation. The involvement of representatives from other town groups is welcomed.
(The final map of the project is located here.)